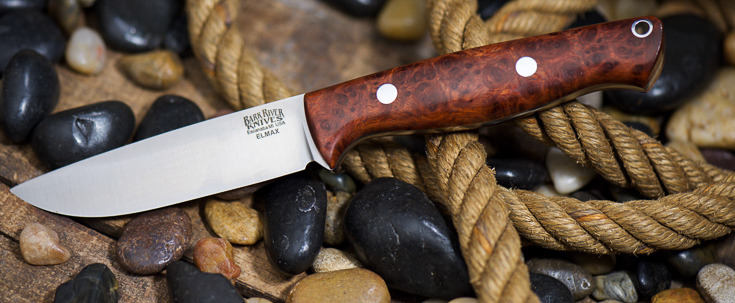 Bark River Knives: Gunny Hunter - Elmax
The Gunny, part of Bark River's Bravo Series, was initially designed as a smaller and more concealable version of the Bravo 1, better suited for paramilitary deployment in local garb. To our surprise, the Gunny turned out to be much more versatile than that.
It excels as a medium field knife, both for military use and civilian purposes. In fact, the sporting applications are endless -- for a lot of folks, the Gunny is just about right for both hunting and bushcrafting.
This version of the Gunny has been crafted in Böhler Elmax "super stainless steel." Elmax is an extraordinarily clean powder metal alloy with a highly refined grain structure and extremely small, evenly disbursed carbides. This results in very high edge-holding with no trace of brittleness. The Bark River Gunny Hunter in Elmax should be among the best performing stainless-steel knives on the market today.
Specifications:
| | |
| --- | --- |
| Overall Length: | 8.4" |
| Blade Length: | 3.775" |
| Blade Steel: | Böhler Elmax @ 60-61RC |
| Blade Thickness: | .156" |
| Weight: | 5.625oz. |
| Price: | Starting at $209.97 |
Made in the USA.
High-quality leather sheath included.
There are no products listed under this category.