Barrage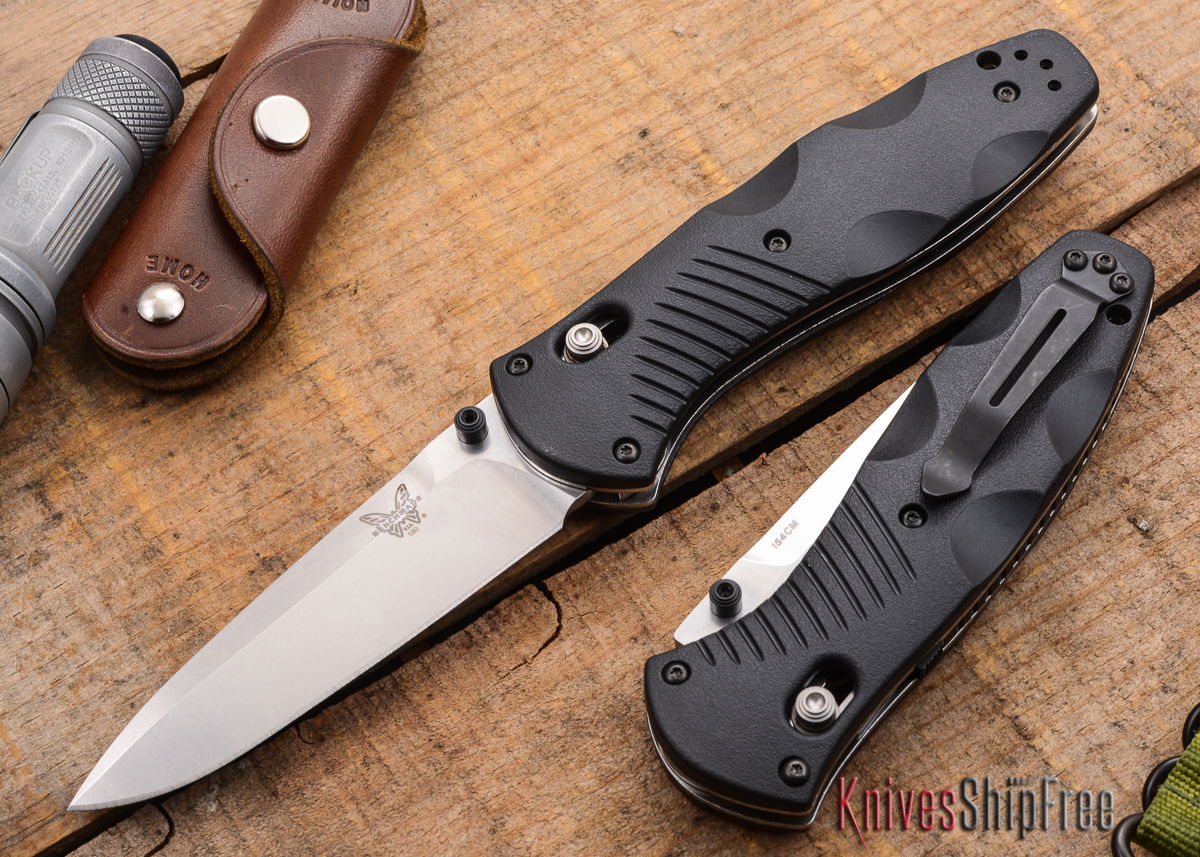 The Barrage® is an everyday, outdoor knife designed by Osborne. Not only is this a fantastic quality knife that comes highly-recommended as an everyday carry, but it is also the first knife to feature the AXIS-Assist mechanism.
One of the key points to consider when looking at this knife is its ability to be opened quickly. Thanks to the AXIS-Assist mechanism, anyone using this knife will not only be able to open it with great speed, but they will also be able to do so easily with one hand. Grace of this exemplary assisted-opening action, it is said that the knife opens as quickly as an automatic.
The spring action on a Barrage® will blow you away. Users find it not only very fast, but very strong. The safety is perfectly effective, as you would expect from a Benchmade knife, and it is also intuitive. It is very easy to access and operate the safety when you are ready to do so. The release that allows you to fold the blade away also works extremely well and is easy to use. The Benchmade Barrage® is part of the Blue Class family of knives.
Specs
The blade steel is 154CM (58-61 HRC) and the knife has a blade length of 3.60" (9.14cm). The thickness of the blade is 0.121" (3.07mm). The open length is 8.35" (21.21cm), making the closed length 4.75" (12.07cm).
The thickness of the handle is 0.65" (16.51mm). Large and comfortable, with finger grips, the design allows people with larger hands to use the knife just as comfortably as those with smaller hands. It is also designed to prevent accidental slipping, even when hands are sweaty during high-intensity work.
Another design consideration that is worth noting is that the knife has been created in such a way as to be equally effective, regardless of which hand, left or right, you are using.
The Barrage® family comprises a variety of configurations. The drop-point blade style comes with a Valox handle and weighs in at 4.31oz. (122.19g). Alternatively, there is a Tanto blade style with Valox handle, which weighs 4.51oz. (127.86g). A drop-point Blade Style with G10/Aluminum Handle is also available, weighing 5.20oz. (147.42g). Finally, customers are also able to purchase a drop-point blade style with G10 Handle with a weight of 4.94oz. (140.05g). On receipt of the knife, you will find it has a standard clip with a reversible tip-up position and lanyard hole.
More about the Benchmade Barrage®
Like all Benchmade knives, the Barrage® means quality. The quality and design of Benchmade knives, as repeat customers have come to expect, is nothing short of outstanding. You want to be able to feel the difference when you pay more than budget prices for a knife and you certainly will feel the difference in quality with a Benchmade Barrage®. The look of it will give you the first hint, but the feel of it in your hand assures you that you have just made a good deal and that this knife is going to satisfy all your needs. While the materials are not heavy, you will feel the quality as you balance this knife in your hand.
The blades are very strong and durable and will not disappoint. You will see that they are perfectly centered so the knives feel well-balanced in the hand and during use.
The workmanship manages to be both beautiful and solid. The lock up is tight and secure. The blade will stay sharp after repeated use, making it a low maintenance knife that is good during lengthy expeditions.
Top-quality craftsmanship means an assist that remains very smooth, even with heavy, repeat usage. As an everyday carry, these are built to serve and built to last. A Barrage® comes highly-recommended for its quality materials combined with an attractive price tag that will not break the bank.
At their price point, with their good looks and solid usability, Benchmade Barrage® knives have made great first high-quality knives for many users. They make great gifts for outdoor enthusiasts who might benefit from a new knife or from seeing just how much a high-quality knife can do, saving them time and energy and effectively solving the problems they might encounter when out in nature.
Whether you are new to high-quality knives or you are used to handling quality products, give this one a try and you will be able to feel why they are worth the hype that surrounds them. Their quality speaks for itself. Many people who have tried this knife out of curiosity have been won over by its ability to sail through any everyday job with both ease and style.

An everyday carry should be light enough to be unobtrusive, which this is, and yet sturdy enough to handle your needs even as your needs change, which this knife also satisfies. Those looking for a new every day carry knife ought to consider making the investment in quality that comes with a Benchmade Barrage®.
These really are everyday knives and they come in handy at home, at work and/or in the outdoors. They manage to combine good looks with great portability and superb practicality. A great every day carry, it is likely to hold its edge longer than most if not all knives you have used before, providing you with month after month of repeated use with minimal maintenance.
Razor sharp out of the box, a Barrage® is as stylish as it is effective. Knife enthusiasts will not be able to help but love this. If you have never owned a Benchmade knife before, this is a great place to start. If you are looking for a superb everyday knife that is made in the United States, you need look no further.
In addition to being a superbly manufactured knife from a technical perspective, the Benchmade Barrage® is the kind of knife people want to own on sight. The detail is superb and there is no let down when you finally are holding it in your hands. It delivers for the eye, in your hand and is at its absolute best when pressed into service.
View our line of Benchmade Barrage® knives and find the one that's right for you. You can contact us by phone at (423) 910-9070 or visit us at our showroom in Ooltewah, TN. You can handle and buy everything we have on the website right in our store.
There are no products listed under this category.