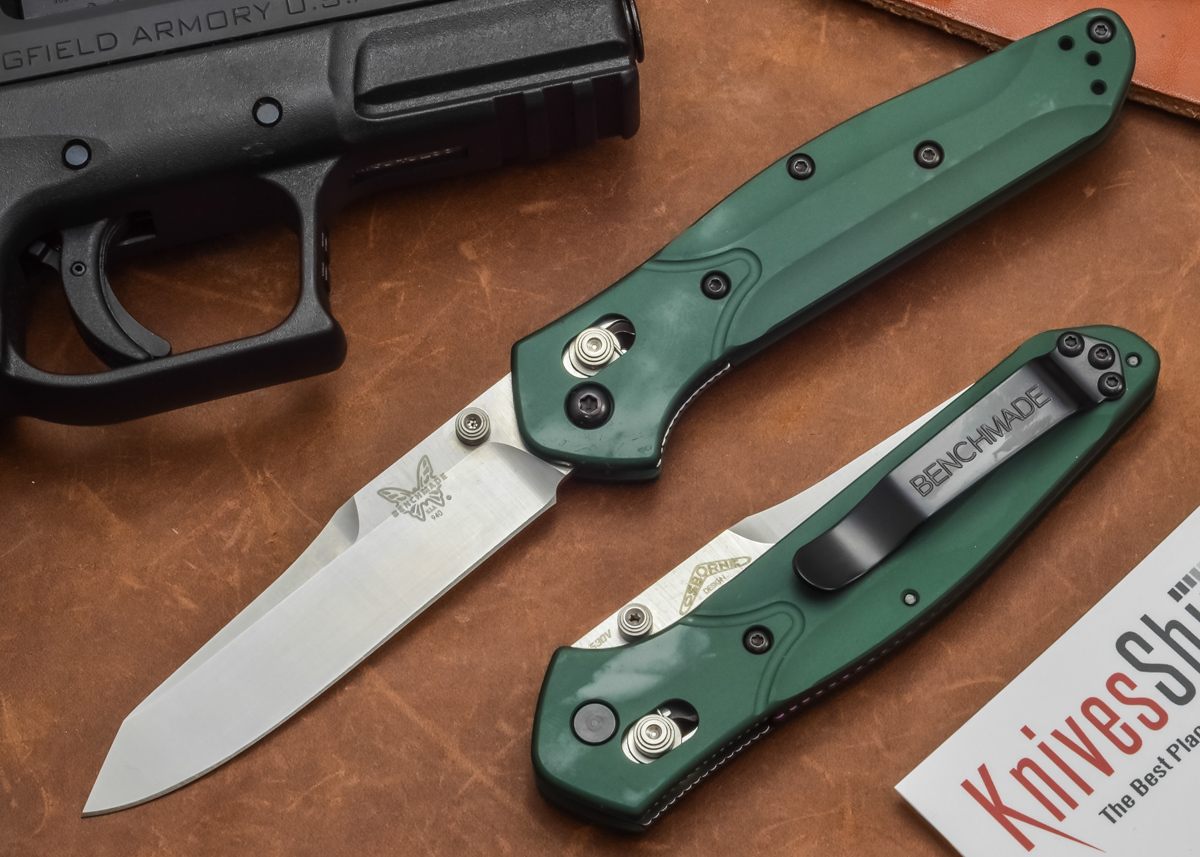 THE BENCHMADE 940 & 943 KNIFE
This family of Benchmade knives is nothing short of legendary. For more than a decade, customers have been buying and using these slim and stylish knives for a variety of every day applications, and they continue to be popular to this day. They embody all that you want in an EDC and, as such, are highly regarded by knife enthusiasts and collectors.
Designed by Osborne, the Benchmade 940 and 943 knives have the patented AXIS mechanism for manual opening. The mechanism is as smooth as silk and the knife is perfectly aligned so that there is no play when opening or closing it. You will find that the blade is perfectly centered to aid the incredibly smooth mechanism.
Specs
The blade is 3.40" (8.64cm) long and 0.115" (2.92mm) thick with an open length of 7.87" (19.99cm) and a closed length of 4.47" (11.35cm). There is a choice of knife to make here, which determines your handle and the kind of blade steel used on the purchased knife.
The version with aluminum handle has a blade steel made of CPM-S30V (58-60 HRC). In this case, the handle thickness will be 0.41" (10.41mm) and the entire knife will weigh 2.90oz. (82.21g). If going with the aluminum handle, you have choice of green or black anodized aluminum.
The second handle type option for this knife is one with a carbon fiber handle. The carbon fiber handle versions of these knives are delivered with a blade steel made of CPM S90v (59-61 HRC). The handle thickness in this case is 0.44" (11.18mm) and these knives weigh 2.44oz. (69.17g).
More about the Benchmade 940/943
Other configurations allow you to customize the Benchmade 940 or 943 in respect to how you think you will use it most often. You can choose from a plain edge blade or a serrated blade, great for cutting tough or heavily abrasive materials on a regular basis. In addition, you can opt for a satin finish or coated, sometimes a choice for customers for its anti-corrosive properties, particularly where saltwater is concerned.
Customers are also able to decide whether they would prefer a clip point or a reverse Tanto. The clip point is very sharp and controllable, a great combination found on many pocket knives and particularly popular with Bowie knives. There is also plenty of cutting edge, making them great for slicing. On the other hand, you may prefer the reverse Tanto, which sacrifices the cutting edge in favor of an incredibly strong tip that can be used for piercing tough material.
All the knives come with a standard clip type, set up as reversible tip-up.
Intended for every day and outdoor use, this knife is winner. Its looks are relatively subdued, compared say to the stunning-looking 761 and 765, so it is a knife you can pull out and go to work with without feeling self-conscious. The Benchmade 940 and 943 are great knives with a good-looking but utilitarian appearance. The high quality blades that you can choose for this knife are the work of years of craftsmanship and well worth the investment. You will own a tool that will keep giving, throughout its lifetime and yours.
It is inadvisable to spend money on inferior knives simply because they are cheaper. They may be comparable in terms of size, but you will be able to feel the difference in quality immediately. For a knife that you intend to use every day, you want something that will last and that will survive any rigors that you put it through. This means paying a little more for a brand that you trust. Benchmade delivers high quality products using excellent design, great materials, and all at prices that represent great value for money.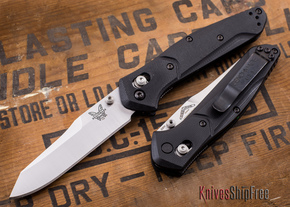 A good knife is not a luxury. It is an investment. A good knife will last you a lifetime, and the Benchmade 940 and 943 are not just good knives, but great knives.
Both the Benchmade 943 and 940 comprises solid, quality materials. The lock up is solid and compares well with higher end offerings. Since the Benchmade brand is synonymous with quality, buying a Benchmade knife means that you really know what you are going to receive.
The AXIS lock mechanism allows for fast deployment, making it great for situations where you want to pull the knife out, cut something, and then return it to safety straight away. An EDC should allow you to do that multiple times with ease and this is no exception. It will be handy for tearing through boxes, tape, rope and the myriad of cutting tasks that any of us face on a daily or weekly basis.
After it has been put to work, the blade locks up nice and solid again when you are done. The AXIS therefore ensures that you have speed and reliability where you need it.
A good quality knife like a 940 / 943 is worth investing in, but remember that restoration is unlikely to be necessary for many years to come, if ever. The high-quality materials are used exactly because they are durable. While this may not be the only Benchmade knife you buy over the years, it might be the only knife you will ever need.
Removing a Benchmade product from the packaging is always an exciting moment. The fit and finish of this knife will impress you. It is a knife that both looks and feels like a quality knife. The blade will arrive incredibly sharp, so go ahead and test it on a piece of paper and watch how it push cuts with ease. Either choice of blade will provide a wonderful edge that will remain very sharp over continued use and you will find that they are easy to hone in order to bring them back to the sharpness with which they were delivered.
Many customers have reported that they have had either the Benchmade 943 and 940 for many years. It is such high quality that it will continue to delight customers, old and new, for many years to come.
View our line of Benchmade 943 and 940 knives and find the one that's right for you. You can contact us by phone at (906) 233-6608 or visit us at our showroom in Escanaba, MI. Our store is the largest knife store in the state of Michigan. You can handle and buy everything we have on the website right in our store.