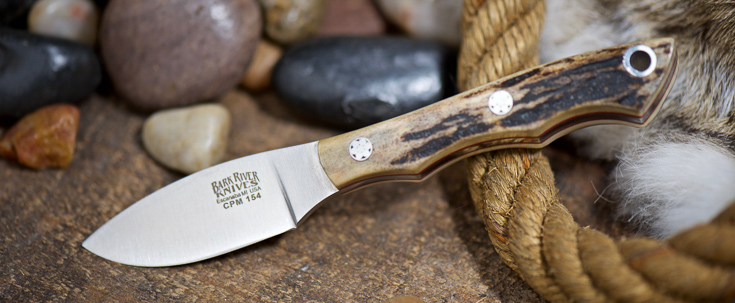 Bark River Knives: Micro Canadian - CPM-154
The Micro Canadian was first introduced in 2004 by Bark River Knives and has continued to play a large role in their line since. The subsequent production runs have included significant steel upgrades. Originally produced in 12c27, the first upgrade this little knife saw was to Crucibles stainless 154CM steel, and now finally to the new, improved CPM-154. This particle steel increases edge retention and carbide distribution for a fine grain structure. This knife will prove to you that size doesn't matter when you have a great design backed with quality materials.
Specifications:
Overall Length:
5.125"
Blade Length:
2.19"
Blade Steel:
CPM-154 @ 58-60 HRC
Steel Thickness:
.125in
Weight:
1.375 oz
Price:
Starting at $

112.47
Made in the USA.
High-quality leather sheath included.
There are no products listed under this category.