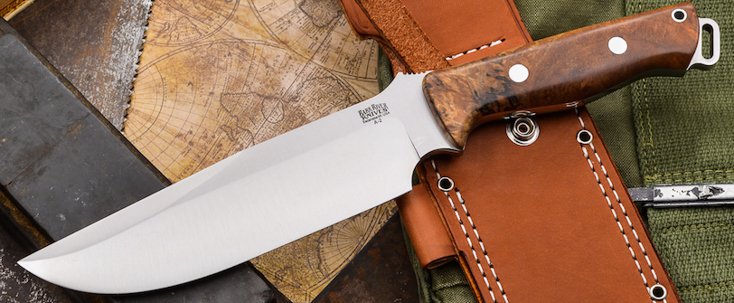 Bark River Knives - Bravo Survivor
The Bark River Knives Bravo-Survivor is a more compact version of the massive Bravo-III. Bark River has reduced the blade from 12 Inches to a more portable 7.125 inches and converted from 3V in favor of A-2 Tool Steel. The height of the Bravo-Survivor blade is the same as the height of the Bravo-III. Additionally, the Bravo-Survivor is heavy enough for normally encountered chopping tasks in the field and makes light work of an expedient overnight campsite. The cutting and slashing ability is enhanced by the increase of the angle of attack in ratio with the slightly dropped handle.
Specifications:
| | |
| --- | --- |
| Overall Length: | 12.45" |
| Blade Length: | 7.125" |
| Blade Steel: | A2 Tool Steel @ 58-60RC |
| Blade Thickness: | .265 Inch |
| Weight: | 17.125oz. |
| Price: | Starting at $254.97 |
Made in the USA.
High-quality leather sheath included.
There are no products listed under this category.