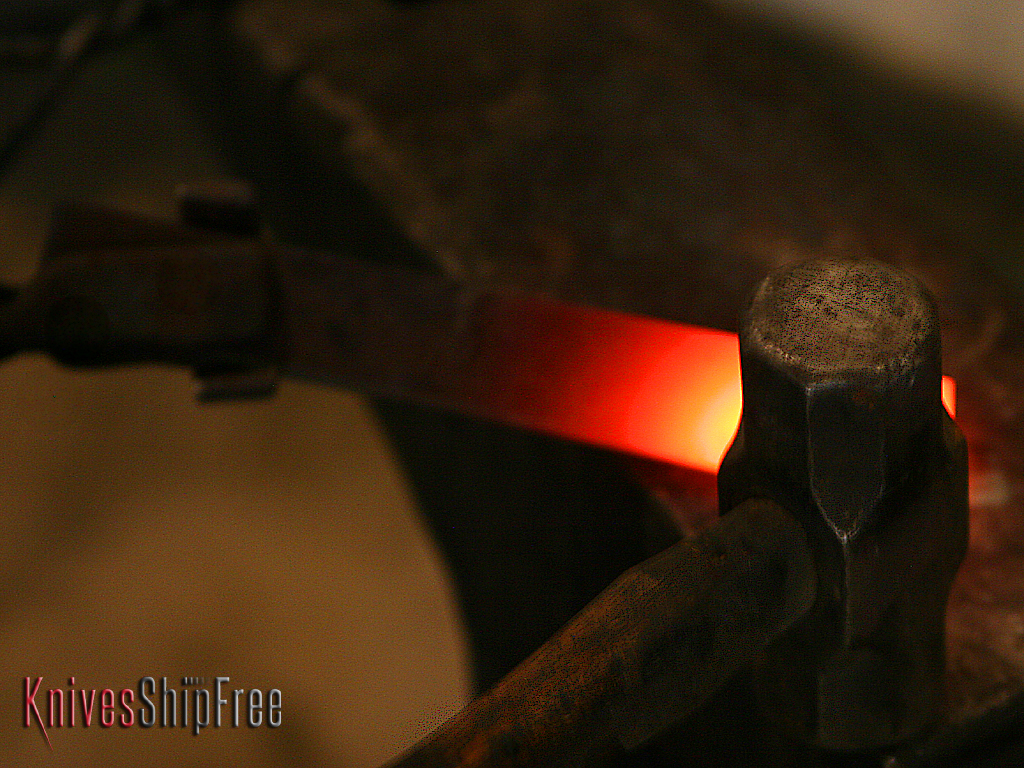 When bladesmith Lon Humphrey invited us to visit his shop, he didn't have to ask us twice. We knew his work, of course -- old-school tools, hand-forged and hand-finished -- but we couldn't wait to see the source.
Driving out through the eastern-Ohio countryside on a rainy June morning, the local country-music station was coming in strong.
I still live in the sticks where you wouldn't go,
In a town of twelve hundred, off an old dirt road,
And a country boy is all I'll ever be.
The song seemed to fit the moment, since Lon didn't really give us directions.
"You'll never find it," he chuckled. "Just get to the general store and call me."
As we left the store and followed his truck up into the wooded hills, we decided that he was probably right about that.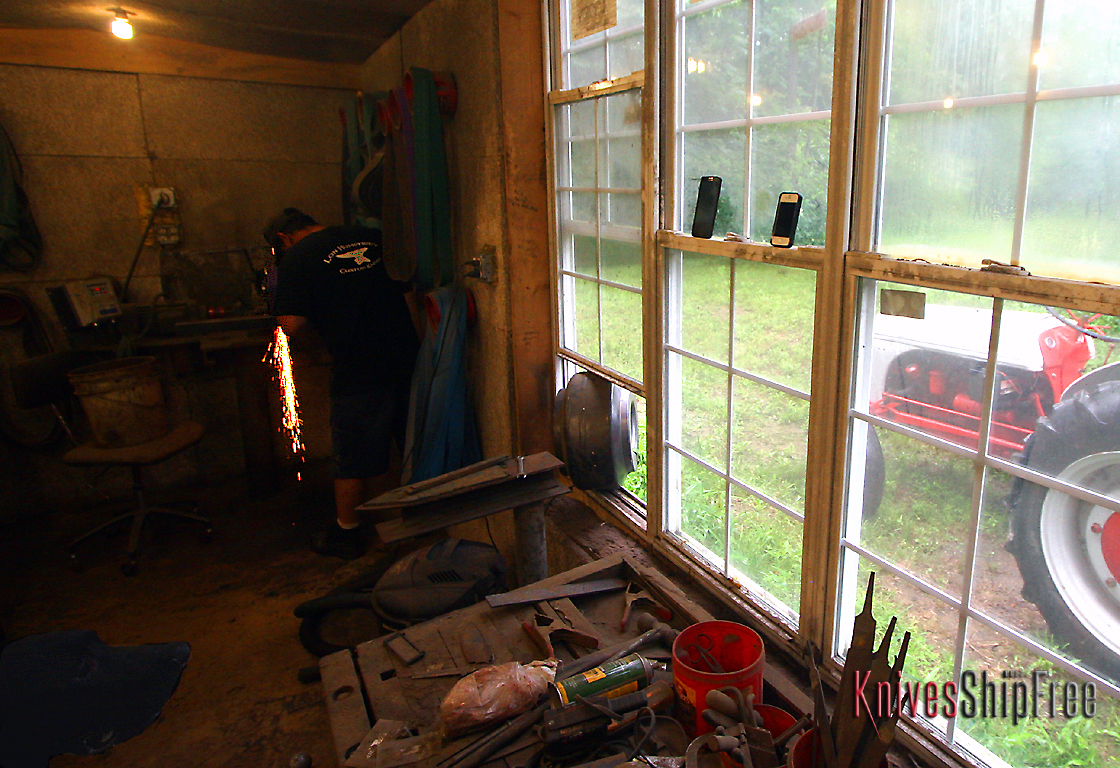 Lon Humphrey Custom Knives occupies a small, unremarkable building set in a clearing among the hardwoods, quite literally in the middle of nowhere. The space is divided pretty much evenly between the grinding shop and the forge. It's manned only by Lon, assistant Jeff and Hephaestus, a one-year-old Great Dane named after the ancient Greek god of blacksmiths.
For anyone who ever stood next to their granddad as he fabricated this or fixed that, Lon's shop would feel familiar -- jumbled and yet purposeful, no tidier than it needs to be to get the work done, a real throwback to simpler times.
An old tractor sits outside. And yeah, there's that dog.
On this day, Lon and Jeff were grinding and polishing, furiously finishing a batch of exclusive " Scout" models for KnivesShipFree.
Jeff, a schoolteacher who's relatively new to the knifemaking craft, focused on grinding the tapered tangs. He used a beveled block of pine to guide the steel as he drew it slowly across the vertical wheel.
On the other side of the shop Lon stood at a slack-belt grinder, swapping abrasives as he moved between finishing blades and shaping handles. He worked swiftly and skillfully, with the natural precision of a seasoned artisan -- no laser-guided gizmos in sight.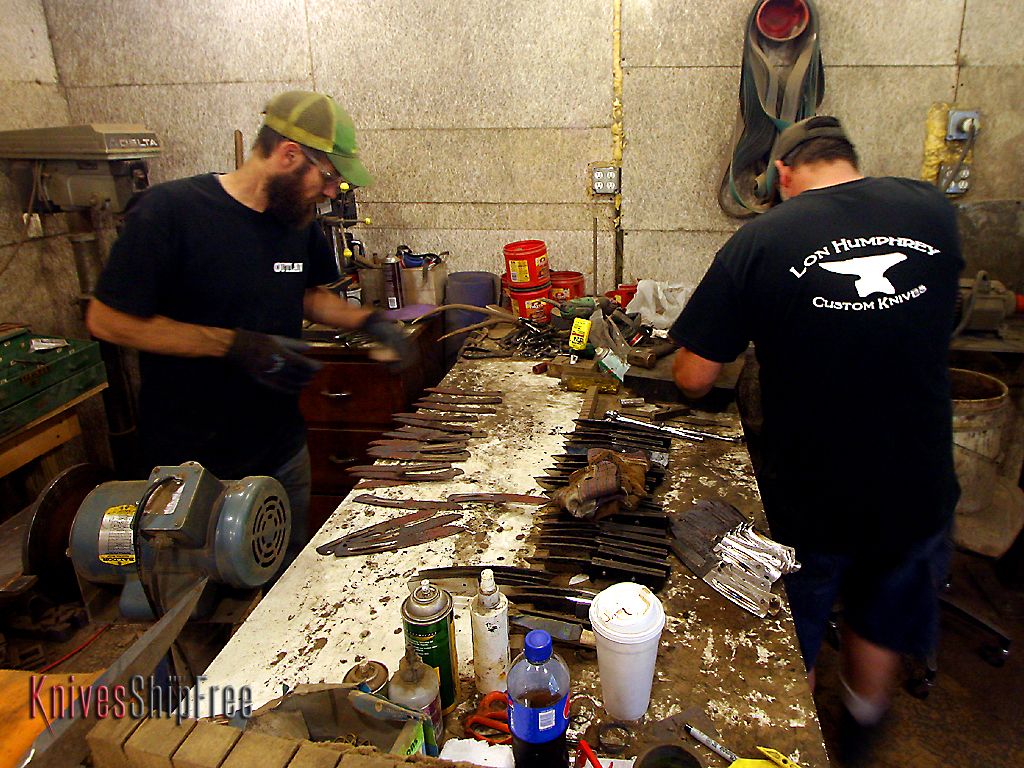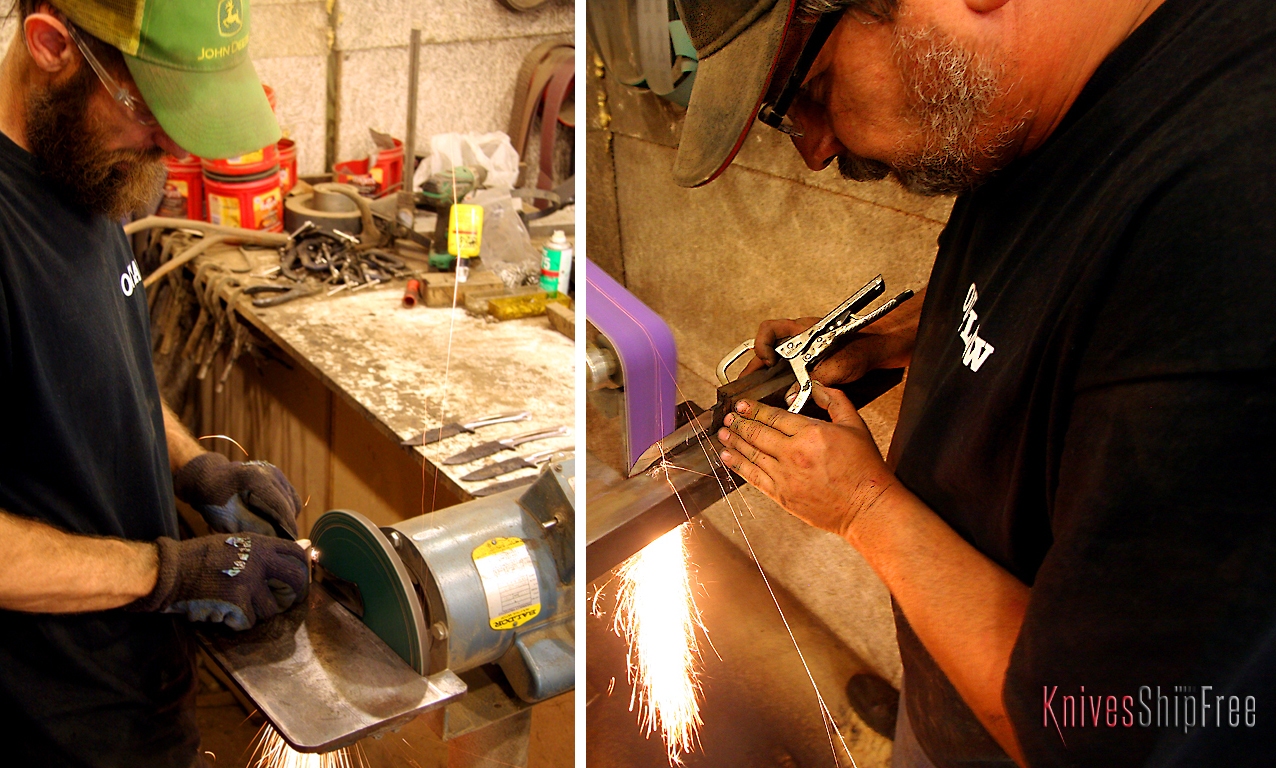 The pair moved deliberately but quickly. Jeff's pile of raw blades got small enough that he began to fix slabs to the freshly tapered tangs. Lon gradually whittled down a rack of slabbed Scouts, first grinding the blades and then shaping the handles.
For those of us who can only stand back and admire such rough artistry, it was fascinating to watch.
The shop's atmosphere was businesslike, for sure, but not necessarily all business. So when we weren't mesmerized by the process (or deflecting invitations to play from a persistent Hephaestus), we had plenty of time to learn what makes Lon Humphrey tick.
The first thing that's obvious about Lon is his humility -- and honestly, he's probably too humble to admit that. But during our time in his shop, he talked more about the 'smiths and 'makers he admires than about himself. He repeatedly expressed surprise, in a self-effacing way, at how enthusiastically his hand-forged knives have been received.
We also couldn't help noticing how eager he is to get better at what he does. "I learn something from every knife I see," he said, "and I learn from every knife I build."
The guy's as real as rain. He's exactly the kind of 'maker the knife business needs more of.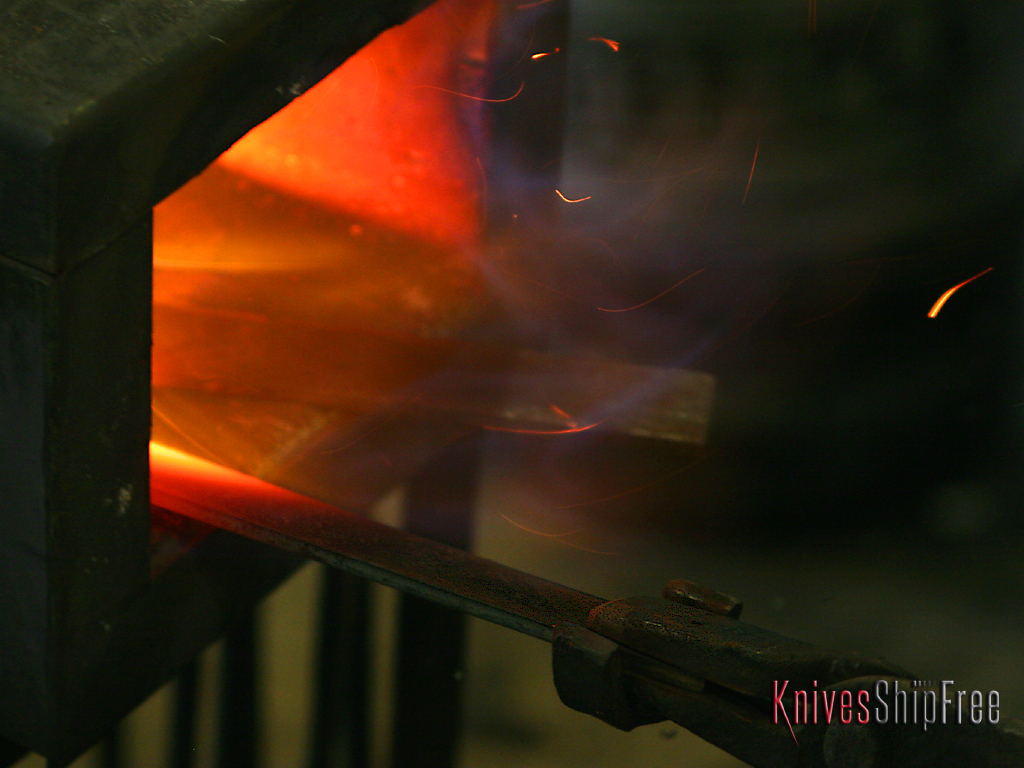 As our time was drawing to a close, Lon said, "Y'know, I don't have any forging to do today, but you want me to fire it up anyway? Might make for some good pictures."
Oh, twist our arm.
He lit the forge, and before long he had two chunks of steel glowing cherry-red. With blacksmith's tongs he pulled each one out, laid it on an anvil and began shaping it with sharp, heavy blows from his hammer. That piece was then returned to the fire and the other given the same treatment.
After a few rounds of that, Lon grinned and said, "Now let's get down to business."
He walked a piece of the hot steel over to a blacksmith's best friend -- a power hammer -- and resumed the shaping process...still grinning.
(By the way, if some smart aleck out there wants to say that using a power hammer makes a knife any less hand-forged, we encourage you to give it a try sometime. You wouldn't last long.)
And so we ended our visit, oddly enough, with the way Lon begins to create his honest, hand-forged tools -- hands, heat, hammer. It was a step back in time, a window on true craftsmanship.
Rolling back west through the farmland, we still had that country station tuned in.
Like it used to be
Like it oughta be
Just like it's done out here
Way out here
Perfect -- we couldn't say it better.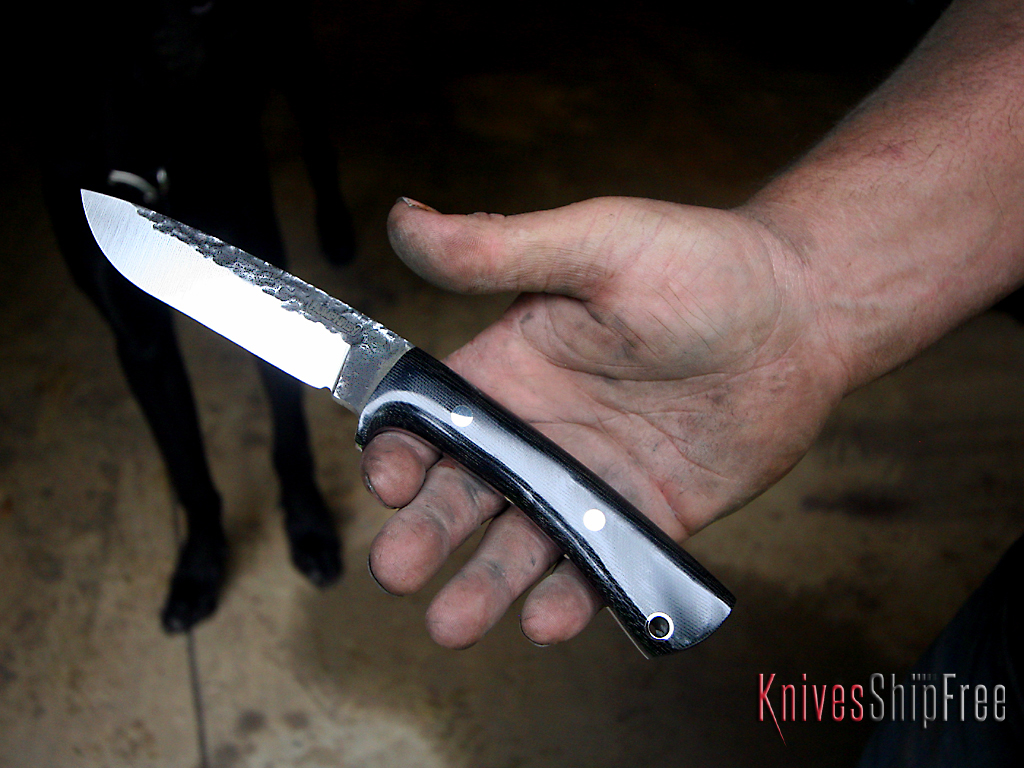 KnivesShipFree offers a great selection of Lon Humphrey Custom Knives, of course. And to learn even more about this talented bladesmith, visit the Lon Humphrey Custom Knives website.