There it is.
It's staring back at you, that hole in the handle of your knife, and you're not sure what (if anything) you're supposed to do with it.
Oh, you know what it is alright. It's a "lanyard hole," and it's empty, vacant -- lanyardless. And you're wondering if it'd offend the knifemaker if you don't fill it with some sort of cordage.
Relax -- we understand.
Lots of knives, from fixed blades to folders (and even the odd slipjoint), are equipped with a hole, tube, loop, ring or shackle meant to accommodate a tether of some sort. The most important thing to know is this:
You're under no obligation, moral or legal, to dangle a lanyard from your knife.
In other words, it's entirely up to you. It's simply a matter of preference, one way or the other.
That said, knife tethers can be either functional or purely decorative, and generally they fall into one of two categories: fob and lanyard.
A fob-type tether is relatively short and stout. It can be as fancy as you like, braided paracord adorned with pewter skull beads, or as basic as a knotted loop of leather thong.
On a folder designed to be carried in a pocket -- Spyderco's LadyBug and ManBug come to mind -- a fob can make it much easier to retrieve and deploy the knife. Some small fixed blades -- the Bark River Little Creek and the ESEE Izula, to name two -- are essentially "three-finger" knives, and a short, single-knot fob has the effect of extending the handle.
The most famous fob we know of is the Chris Reeve Coil Knot. It's fundamentally a noose, drawn tight and solid. We find it so useful that we've equipped a number of our pocket slipjoints with this distinctive fob. (To learn how to tie your own Coil Knot, check out this Chris Reeve Visual Guide.)
A lanyard-type tether is longer and usually incorporates a large loop. It can be fashioned to slip over two or more fingers or a wrist.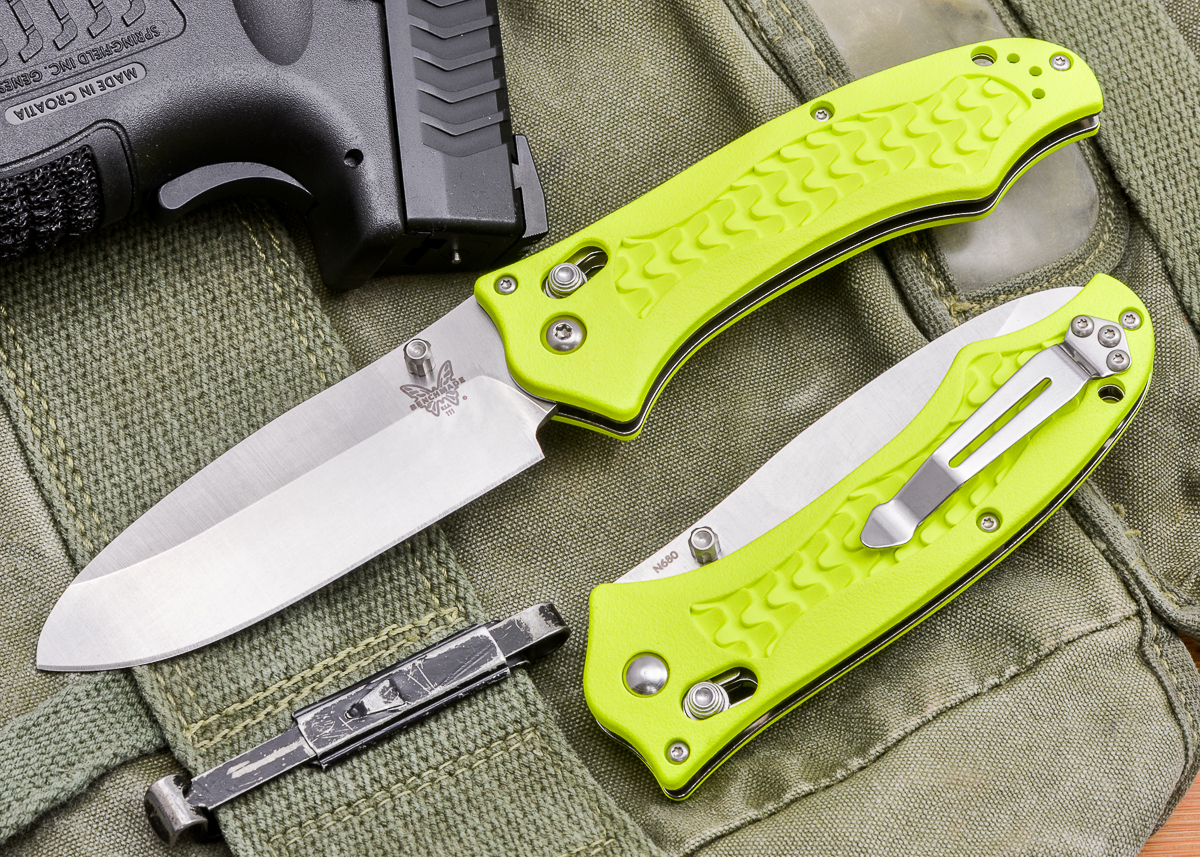 The customary purpose of a lanyard is security -- that is, if the handle itself slips from grip the knife can be retained by the lanyard. That's especially desirable when using a knife in or around water. A knife used aboard a fishing boat would be an obvious example, and so would a folding dive knife like the Benchmade 111H2O-YEL Bullhead.
Now, a word of caution: The larger the knife, the dumber it is (in our opinion) to use a wrist lanyard. Think about it -- if your big, heavy fixed-blade knife slips out of your hand and starts flopping around at the end of a tether looped over your wrist, there's a good chance of injury, either while it's flopping or when you try to reacquire your grip. (We've seen it happen.)
The lanyards attached to our personal Bark River Bravo-1 and ESEE-4, for example, accommodate three fingers. And we always observe one of the cardinal rules of bladesmanship: Never try to catch a falling knife.
There's one more lanyard-type tether on our list, and we learned about this one in Boy Scouts. Back then it was a rawhide thong, between two and three feet in length, with one end attached to the shackle of our official BSA slipjoint, which rode in a front pants pocket. The other end of the thong was tied to a belt loop.
Pretty nifty. What's more, especially for kids (Scout leaders, take note), it offers a measure of "loss prevention."
With any long lanyard, by the way, you'll want to take care that it doesn't get tangled up in other gear or snagged on brush when you're traipsing through the woods -- tuck it in or stow the knife away altogether. Of course, a lanyard should never be so long (or so heavy, if you've festooned it with beads and baubles) that it gets in the way when you're actually using the knife.
Once again, no one will be insulted if you decide not to fill your knife's lanyard hole with a paracord or leather tether. But if you want to know what we think -- and after all, that's why you're reading this, right? -- we encourage you to give it a whirl.
Like sampling different types of knives to find out what works, you won't know 'til you try.