Each of us chooses our EDC knives for different reasons -- utility, convenience, elegance, ease-of-maintenance, and so on. Usually it's a combination of factors that draws us to favor a particular blade.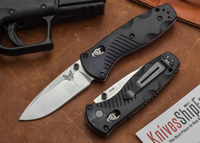 One of our friends, a woman who manages a wholesale distributor in an industry dominated by men, introduced us to a whole new reason: street cred.
Seriously -- it's the opposite of picking a discrete, non-threatening blade that won't "scare the sheeple." She wanted a knife that would convey to her male customers that she's more than just a pretty face, so the knife she carries every day is Benchmade's 585 Mini-Barrage.
Sure, the 585 is a solid, compact knife that does everything she asks it to do -- open boxes, cut strapping and shrinkwrap, pop staples. Its drop-point blade, made of 154CM stainless, combined with Benchmade's patented AXIS lock, make it a great choice for a tough-duty EDC folder.
What our friend really likes, though, is when one of her testosterone-fueled customers asks for a knife. She takes great delight in triggering the 585's spring-assisted blade, flashing it open in front of the startled fellow's nose.
The fact that the blade says "Benchmade" seals the deal. Now that's street cred.
We're always pleased when the Benchmade 585 Mini-Barrage finds its way to the top of our own EDC rotation. It's an impressive knife, in more ways than one.