The Adventurer Neck Knife is a relatively new offering from Bark River, and so far it's been very well received. Those who have tried it, like it -- a lot.
If there's one thing that gives some people pause about the Adventurer, however, it's that it's a necker. Most often, that reaction comes from folks who have never tried neck carry, or have tried neck carry when it's just not the right thing to do.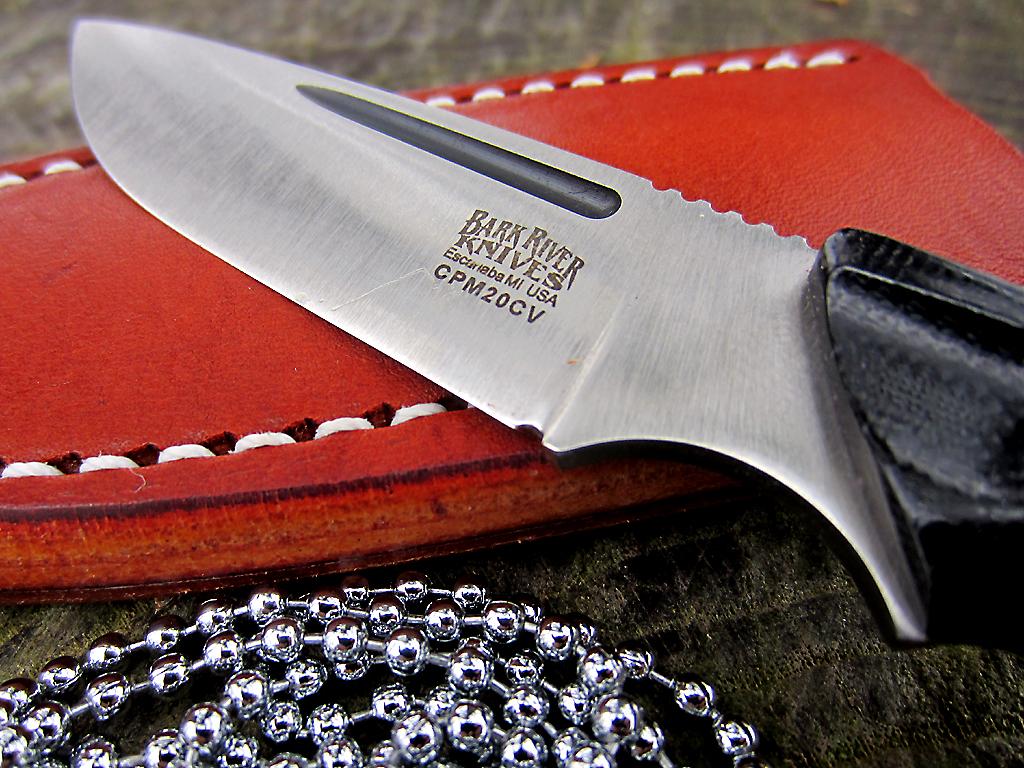 We'll get to that here shortly, hoping to answer some common questions about neckers in general. First, let's talk about the knife itself.
The Adventurer is Bark River's take on one of Murray Carter's most popular designs. It's slim, very compact and surprisingly easy to carry for a knife measuring nearly seven inches long overall.
Although it weighs less than three ounces, when put to work the Adventurer is anything but a lightweight. The full-tang drop-point blade is a sturdy eighth-inch thick and will do the work of much larger knives. (We know, we say that a lot about Bark River's smaller blades, but it's true -- they have an uncanny knack for producing "little big knives.")
Among the reasons that the Adventurer is so capable is its ergonomics. Despite being wonderfully compact, the combination of the handle's shape and a generous choil gave us a four-finger hold in virtually any conventional grip.
The ingenious "thumb relief" at the forward end of the handle makes the Adventurer a pleasure to use when employing a lateral grip as well. And the grooves on the top of the spine help index the knife in the hand, as well as being perfect for striking a firesteel.
The Adventurer is the first knife from Bark River to be produced in CPM 20CV stainless steel. It's new to us, too, but at this point we have to give it a big thumb's-up -- it's shown itself to be very resistant to corrosion and it holds an edge extremely well.
Bark River has earned a reputation for building knives that just plain work, but the unassuming little Adventurer has, in our humble opinion, raised the bar. From the ergonomics to the blade to the choice of steel, this knife is a real joy to carry and use. It makes an ideal hunter's companion, for example, as well as being a great choice for day hikes or even everyday carry.
Now let's talk about carrying the Adventurer.
Designed to be a necker, this is the first knife to use Bark River's clever "Rare Earth Magnet Leather Neck Sheath." That's a mouthful, but it's exactly what it sounds like -- a thin magnet, sandwiched between layers of leather on one side of the sheath, holds the Adventurer securely in place even when the sheath is worn inverted.
We love this sheath. Not only does it work -- it's ridiculously easy to deploy the knife and return it to the sheath -- it's just plain cool.
We will say that the Adventurer's sheath, because of the rigid magnet, takes a little more determination (for lack of a better word) to "gap" before inserting the knife for the first time. It wasn't at all difficult, really, just somewhat stubborn. (We use a capped Sharpie to "work" a new sheath, by the way.)
It's also the first sheath we've ever used that comes with a warning label -- seriously, if you have a pacemaker or other medical device that may be affected by a magnet, do not use this neck sheath.
An important consideration for neck carry is what to use as tether. Different people make different choices, so the Adventurer isn't equipped with a way to hang the sheath around your neck. Some folks use paracord, others use a chain of some sort, but whatever you choose, for safety's sake, make sure it has a "breakaway" feature .

We're not kidding about this. You could be in a world of hurt if your necker's tether hangs up on a tree branch, a handlebar or a saddle horn. Safety first, people.

Our own favorite necker-hanger is ordinary ball chain. You can find it at almost any hardware or home-improvement store, usually in the aisle where they stock electrical supplies or ceiling fans. It's cheap, easily adjustable, comfortable and will break away under unreasonable tension.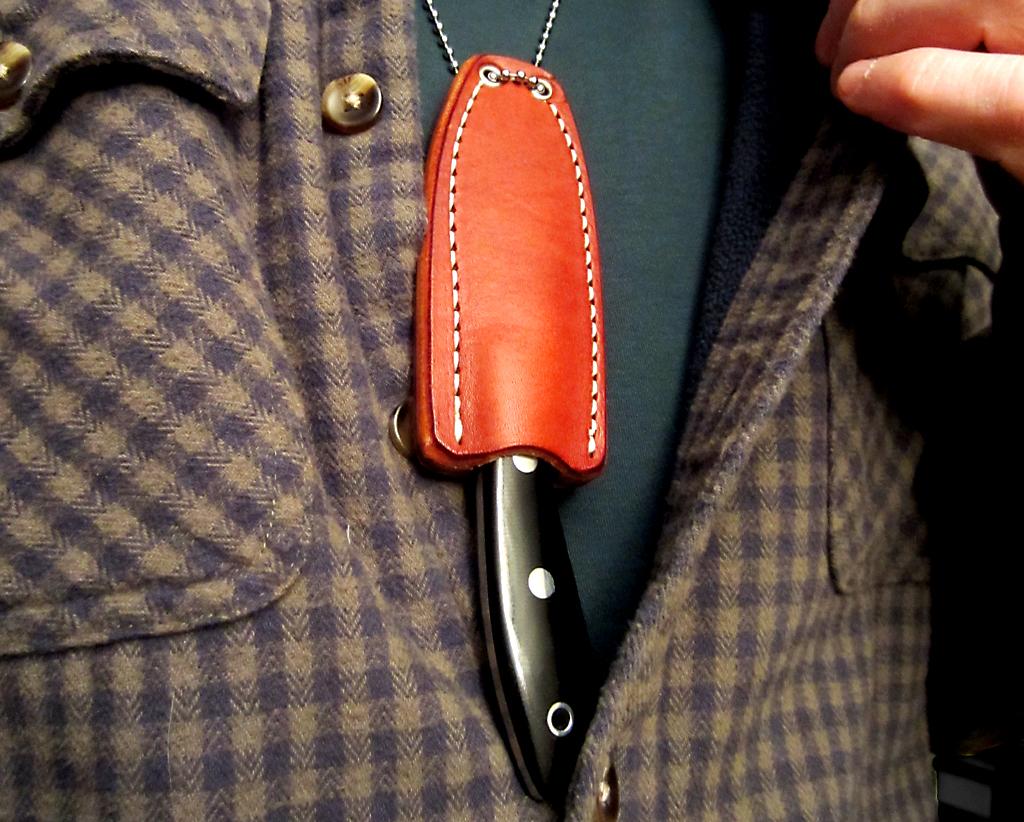 When carrying a neck knife, we've found it best to nestle it underneath a outer layer of clothing -- something secure enough to keep it from flopping around when you lean forward, but with buttons or a zipper to allow convenient access to the knife. It's easier to come up with such a clothing scheme in cooler weather, of course, when you're more likely to be dressing in layers. Just experiment -- we're pretty sure you'll find a way that works for you.

(Oh, one more thing -- check your local laws to make sure your newfound preference for a neck knife isn't running afoul of statutes governing concealed weapons.)
Ok, suppose you're intrigued by the Adventurer but, despite our best efforts, you're still not crazy about neck carry. No problem -- there's a more conventional (and non-magnetic) Adventurer Belt Carry Sheath available (which also works well, incidentally, as a pocket sheath).
However you fancy carrying the Bark River Adventurer, you'll be toting a great little knife. It has our highest recommendation.