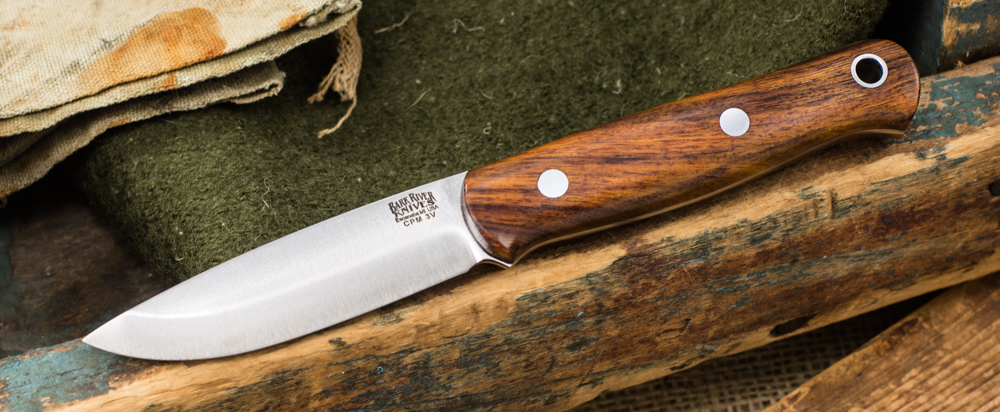 Bark River Knives: Ultralite Bushcrafter - CPM 3V
With the Ultra-Lite Bushcrafter, Bark River Knives has created the perfect light bushcrafting knife.
If ever there was a knife that delivers pounds of performance for every ounce of weight, the Ultra-Lite Bushcrafter not only qualifies -- it hits the nail right on the head. It's styled just like its big brother, the full-size Bark River Bushcrafter, but it's smaller, thinner and much lighter. At just 2.7 ounces, it virtually disappears on the belt, rides easily in a pack and feels like a feather in the hand.
The Ultra-Lite Bushcrafter is all-business, though, when it's put to work. Its ergonomically shaped handle slabs make it comfortable and secure in the hand. The Crucible CPM 3V tool steel is tough enough to handle larger tasks and it holds an edge extremely well. The thin blade slices effectively and carves wood effortlessly for bushcraft camp projects.
The Bark River Ultra-Lite Bushcrafter is a great backup to a regular bushcraft knife and ideal by itself for day hikes and short trips.
Specifications
| | |
| --- | --- |
| Overall Length: | 7.4" |
| Blade Length: | 3.25" |
| Blade Steel: | CPM-3V |
| Blade Hardness: | 58-60HRC |
| Blade Thickness: | .090" |
| Weight: | 2.7oz. |
| Price: | Starting at $202.45 |
Made in the USA.
High-quality leather sheath included. The Bark River Ultra-Lite Bushcrafter made designer Mike Stewart's list of favorite knives.