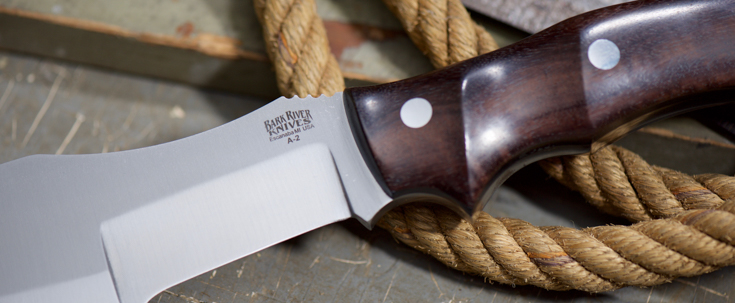 Bark River Knives: Trakker
The 2016 custom Trakker is much more like the original Dave Beck Wilderness Survival Knife than the one we have done previously. These started life as a solid bar of over a quarter inch thick A-2 and were completely hand ground from those bars. These are true 100% custom blades. Each one will be slightly different but you might need a micrometer to tell them apart. The crew did a fantastic Job making each one. This Bark River knife has more girth to the handles and balance forward for chopping but are not at all ungainly for doing finer work. The handle has been designed so that you hold it securely with the hand forward or more to the rear. The 2016 Trakker is a real handful and made for serious work.
Specifications:
| | |
| --- | --- |
| Overall Length: | 13.1" |
| Blade Length: | 7.5" |
| Blade Height: | 2.125" |
| Blade Thickness: | .265" |
| Weight: | 22.775oz. |
| Price: | Starting at $299.97 |
Made in the USA.
High-quality leather sheath included.
There are no products listed under this category.