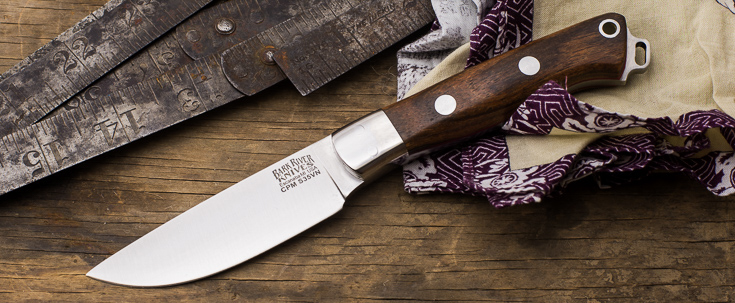 Bark River Knives: Rising Wolf - CPM S35Vn
The Rising Wolf is a small hunter that is part of Bark River Knives' Deluxe Game Series. This version of the Rising Wolf has a total new look and is an upgrade from the first production of this model.
Bark River upgraded the steel to "Crucible's New S35VN Super Stainless Steel". The enhanced edge holding and added corrosion resistance are true benefits to this compact hunter.
We have added the lanyard extension and all of the Rising Wolf's of this run will have a stainless steel bolster set and corby bolts to make a pretty indestructible package.
The handle height has been slightly enlarged for more comfort in sustained use. The blade is also a little taller to give a better angle of attack to the work. The Rising Wolf is not only appealing to the eye it is a solid performer in the field.
In addition, Bark River added a palm swell to the handle which gives it that perfect, custom feel.
Specifications:
| | |
| --- | --- |
| Overall Length: | 7.375" |
| Blade Length: | 3.250" |
| Blade Steel: | CPM S35VN @ 58-60 RC |
| Blade Thickness: | .145" |
| Weight: | 4.250oz. |
| Price: | $284.96 |
Made in the USA.
High-quality leather sheath included.
There are no products listed under this category.