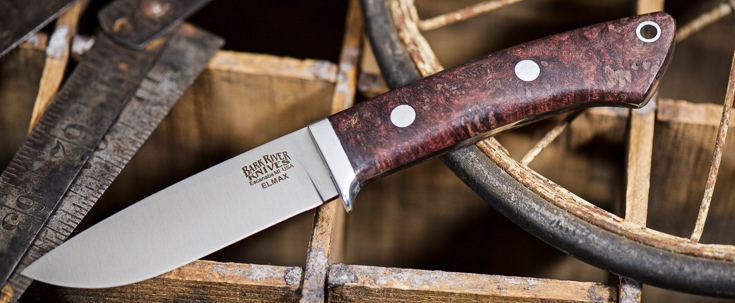 Bark River Knives: Featherweight Hunter
The Featherweight Hunter is a very compact version of the Classic Drop Point Hunter that's been a mainstay of Bark River's Game Series for years.
This popular design originally was conceived by Bob Loveless, and since the early 1980s it's been the standard by which all drop-point knives are judged. Bark River Knives Featherweight Hunter is ideally down-sized, making it the easiest of Bob's designs to pack and carry.
The Featherweight aptly named -- it's truly like a feather in the hand. The combination of its thin blade and the Elmax "super" stainless steel makes it cut like a razor.
Despite its size, it's still large enough to allow a secure grip for dressing small and medium game. It makes short work of hair, hide and gristle, and it can field-dress a deer-sized animal like a scalpel. And once you're back from the hunt, it'll handily dispatch most light camp chores and food prep.
Specifications:
Overall Length:

7.250"

Blade Length:

3.250"

Cutting Edge:

3.125"

Blade Height:

0.775"

Blade Steel:

Bohler Elmax S.S.@ 60-62 RC

Blade Thickness:

0.085"

Weight:

2.5oz.

Price:

Starting at $

194.97
Made in the USA.
High-quality leather sheath included.
There are no products listed under this category.