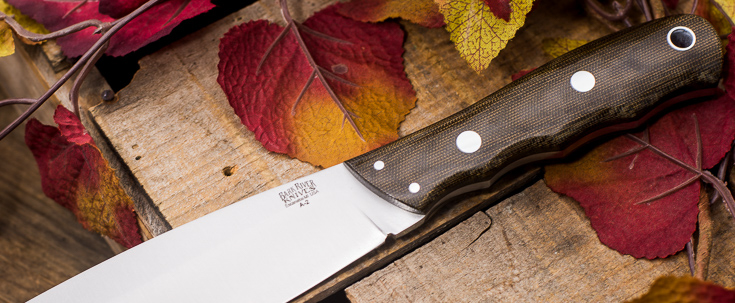 Bark River Knives: Canadian Camp Knife II
The Bark River Canadian Camp Knife II is the latest addition to their Canadian Guide Series. It is the largest knife in the series and has been specifically designed and engineered for chores commonly encountered in a field camp. The knife is perfect for slicing rashers of bacon to sectioning large cuts of meat such as whole sides of beef or pork. Quartering large game like Elk or Moose becomes an easy task. It is also very well suited for chopping and cutting kindling for your camp and cooking fires. The elliptical shape of the blade makes it easy to hold by the spine for scraping hides or flattening wide notches in wood to build camp structures.
The Bark River Canadian Camp Knife II is all the knife you need for your large camp chores.
Specifications:
| | |
| --- | --- |
| Overall Length: | 13" |
| Blade Length: | 8" |
| Blade Steel: | A2 Tool Steel @ 58-60 RC |
| Blade Thickness: | .187" |
| Weight: | 13oz. |
| Price: | Starting at $179.97 |
Made in the USA.
High-quality leather sheath included.