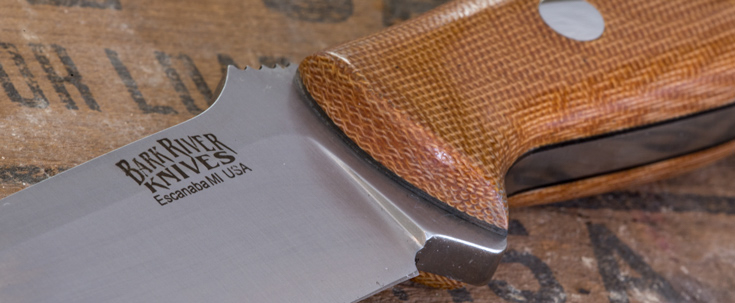 Bark River Knives: Bravo 1 - CPM S35VN
The Bravo 1 is Bark River's best-selling knife of all time, and for good reason.
Several years ago, the elite Force Recon training unit of the U.S. Marine Corps bought a number of top makers' knives for testing purposes -- and they didn't tell the makers. One of those knives was a Bark River Gameskeeper.
The Marines tested the knives. They pushed them to their limits and used them hard.
Bark River's Gameskeeper came out on top. It didn't break. It stayed sharp. It performed exactly the way the Marines wanted it to.
The leader of the team contacted Mike Stewart of Bark River and asked him if he make some changes to the knife for them. The Bravo 1 was the result.
The knife was named after Sgt. Bravo (his real name). The team bought the newly minted Bravo 1, and since that time they've spread like wildfire through the USMC Force Recon teams.
Today, the Bravo 1 has a well-deserved, no-nonsense reputation among Marines and civilians alike.
This knife is identical to those the Marines ordered, except for one thing -- Bark River changed the steel to super-stainless S35VN.
Specifications
| | |
| --- | --- |
| Overall Length: | 9.065" |
| Blade Length: | 4.250" |
| Blade Steel: | CPM S35VN @ 59RC |
| Blade Thickness: | .215" |
| Weight: | 7.375oz. |
| Price: | Starting at $242.97 |
Made in the USA.
High-quality leather sheath included.