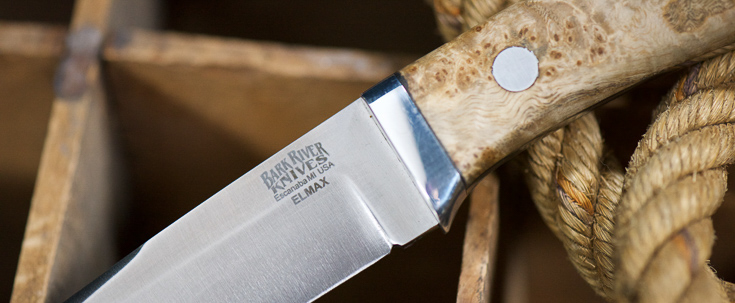 Bark River Knives: Blackwater II
The original Blackwater was in 12C27 and it should really shine now that Bark River Knives has introduced it in Elmax. The Bohler Elmax has much more edge holding. The Bark River Blackwater II is under 6 ounces and is very quick in the hand. The handle ergonomics give it a very secure grip without limiting how you can hold or use the knife. It's straight spine lends it's use to all kind so general outdoor tasks like hunting – backpacking and even bushcraft use. The slight false grind thins the point for fine work. In the large EDC role it really shines for fast use.
Specifications
Overall Length:
9"
Blade Length:
4.2"
Cutting Edge:
4'
Blade Thickness:
.145"
Blade Steel:
Bohler Elmax Stainless Steel
Weight:
5.675oz.
Price:
Starting at

$217.47
Made in the USA.
High-quality leather sheath included.