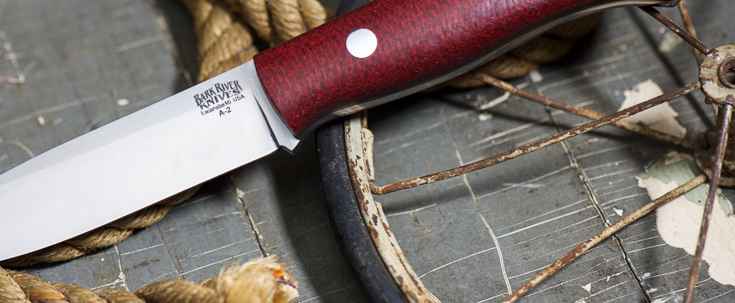 Bark River Knives: Aurora
This knife is maker, Mike Stewart's (owner Bark River Knives) personal favorite bushcraft design combining all of the features he wants to see in a bushcraft knife for all around use in the field.

The Bark River Aurora is a substantial knife but not too big to actually have with you for bushcraft.

You will find the handle comfortable for any size hand and well contoured for a sure-positive grip -- no matter how you hold it or How you pick it up the Aurora becomes and extension of your hand.

Bark River Knives' convex grind will give you maximum cutting power and will easily baton through wood, carve wilderness necessities, field dress game and handle all of your daily camp chores.

Bark River Knives really took their time developing this knife and field tested prototypes for over a year before they finalized the knife.

Specifications
| | |
| --- | --- |
| Overall Length: | 9.5" |
| Blade Length: | 4.5" |
| Blade Steel: | A-2 @ 58RC |
| Blade Thickness: | .170" |
| Weight: | 6oz. |
| Price: | Starting at $202.47 |
Made in the USA.
High-Quality Leather Sheath Included With Purchase