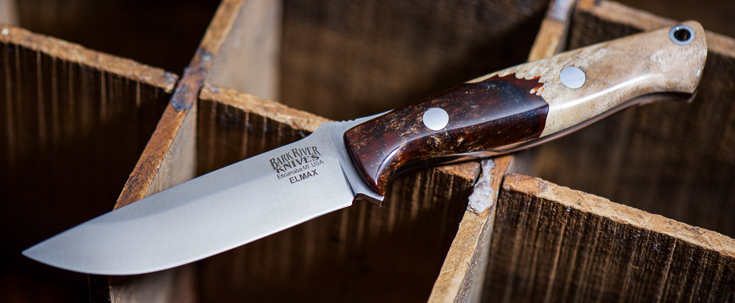 Bark River Knives: Bravo EDC - Elmax
The Bravo-EDC is the perfect size of the Bravo Series for easy carry for everyday use. While being compact it still has more than enough handle for most folks to get a full hand grip. The blade is stout enough for hard use and will do the job of a larger knife when needed. The Bravo-EDC is also a great size knife for light hiking and small game trips in the field. Bark River Knives now offers this model in Bohler's Elmax Super Powder Metal Stainless Steel. You will find it easy to maintain while taking and holding a razor sharp edge.
Specifications:
Overall Length:
7.125"
Blade Steel:
Bohler

Elmax

Blade Length:
3.375"
Blade Thickness:

0.125"

Weight:
3 oz
Price:
Starting at $172.47
Made in the USA.
Includes high-quality right-hand leather sheath (other options available)
There are no products listed under this category.