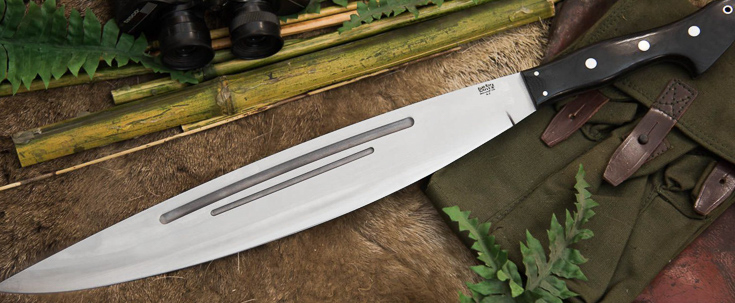 Bark River Knives: Barong
The new Bark River Barong has been designed to be a modern version of the traditional Moro and Huk Barong of the Philippines. The handle is the pure genius of custom knifemaker Jody Samson. Jody made this handle for Mike Stewart in the mid 1980s on a short Barong when he was in his shop in Burbank, California. The knife is a marriage of Jody's handle and a pure traditional blade. The knife is a real handful and cuts like a laser but with a lot of authority. It weighs two pounds, and once in the hand it can be used almost effortlessly. The sheath is supplied with a shoulder carry baldric.
Specifications:
| | |
| --- | --- |
| Overall Length: | 23.5" |
| Blade Length: | 16.5" |
| Cutting Edge: | 15.6" |
| Blade Height: | 2.375" |
| Blade Thickness: | .180" |
| Blade Steel: | A2 Tool Steel @ 58RC |
| Weight: | 2lbs. |
| Price: | Starting at $299.97 |
Made in the USA.
High-quality ambidextrous leather sheath with Baldric-carry system included.
There are no products listed under this category.