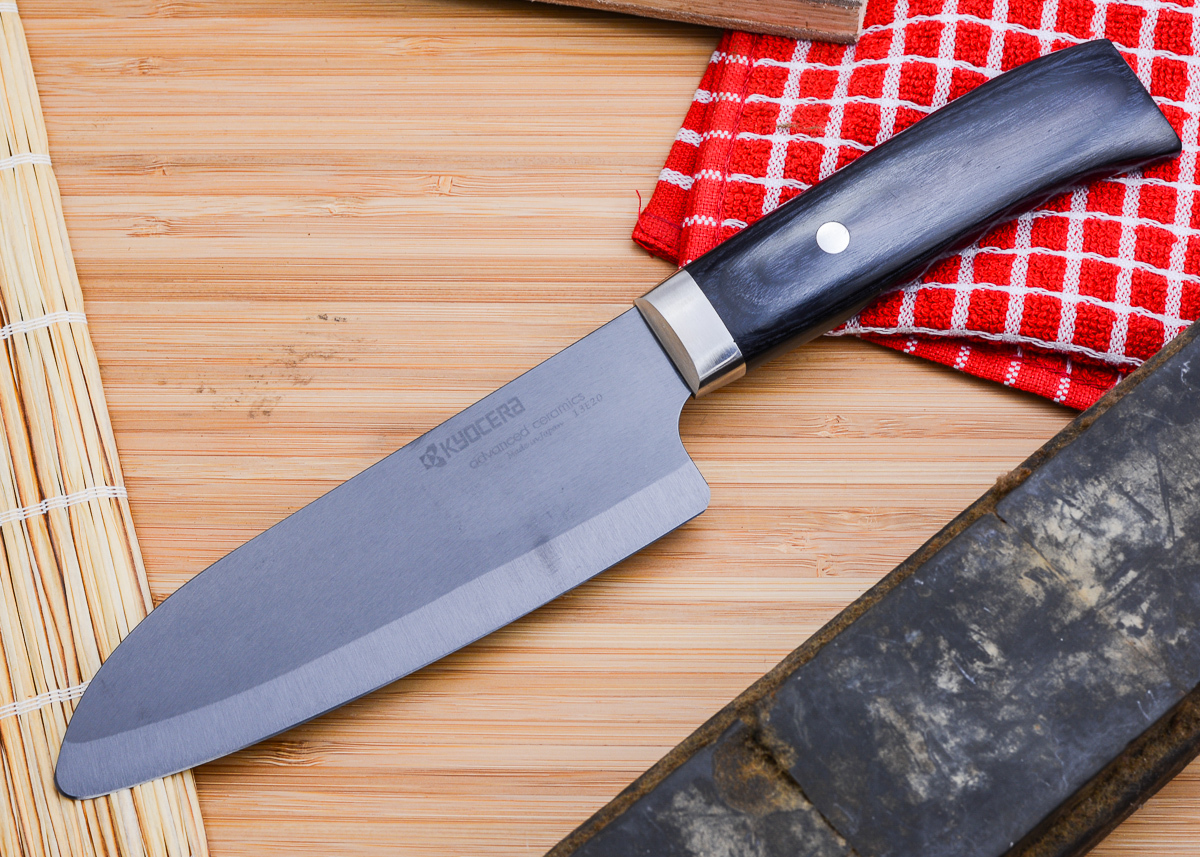 The best place to buy Kyocera ceramic kitchen knives is KnivesShipFree. Here's why:
We stock a great selection of Kyocera ceramic kitchen knives.
We ship free, so our Kyocera prices are better than just competitive.
When Kyocera releases a new model, nobody gets it faster than we do.
You can ask any of our thousands of satisfied customers -- KnivesShipFree's customer service is the best there is. We stand behind what we sell.
---
About Kyocera Ceramics
You experience the difference as soon as you pick up a Kyocera Advanced Ceramics knife. The feel - incredibly light yet perfectly balanced in your palm. The blade -- beautifully ground with razor sharp precision. But it's when you actually try the knife that the ceramic advantage becomes real -- an experience like no other.
Imagine slices so thin, you can actually see through them. A knife that stays sharper, longer. Kyocera advanced ceramic blades offer superior edge retention, holding their edge up to 15 times longer than other professional cutlery.
Another advantage of ceramic is the purity factor -- there are no metal ions. Ceramic knives, slicers or peelers won't brown foods or transfer a metallic taste or smell, so your creations will always look and taste the way they should -- fresh. Since ceramic is impervious to acids, oils and salts, the blades will never rust. You can expect smooth performance from Kyocera's coffee mills and spice mills with their advanced ceramic grinding mechanisms.
The Ceramic Advantage
Sharpness: Our ultra-sharp advanced ceramic blade will retain its original sharpness -- up to 15 times longer than steel blades.
Purity: Rust-proof, will never brown foods, impervious to acids and oils, no metallic taste or smell. Advanced ceramic is a pure & healthy alternative.
Lightweight: Typically half the weight of metal-based knives, offers total ease of use with the most difficult cutting tasks. Ergonomic handles produce a well-balanced, highly controlled grip.
Easy to Clean: The fact that advanced ceramic does not absorb any food element, allows just a quick rinse and wipe with a kitchen towel.
The perfect complement to your cutlery
For slicing fruits, vegetables and boneless meats, a Kyocera advanced ceramic knife has no equal. Ceramic's superior edge retention, chemical purity and lightweight make it ideal for straight slicing.
Even so, ceramic knives are intended to complement -- not replace -- your other cutlery. Use steel knives for carving, prying, boning, cutting frozen foods, and slicing cheese.
(from the Kyocera website)