Description
The KSF Complete Sharpening Kit is an innovative kit for home or in the field.
The sharpening kit contains everything you need to sharpen and maintain any knife.
The kit contains:
Bark River Green and Black Compound
KSF Custom Leather Hone
400, 600, 1000, 1500 and 2000 Grit Sandpaper (4 pieces of each)
S3 Dry Box to serve as a base and storage/carry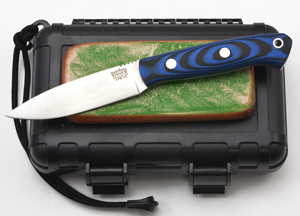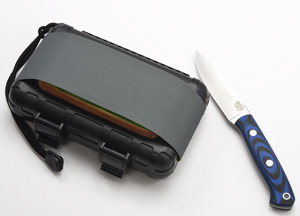 The custom leather hone is designed to sit in the recessed area in the top of the S3 Dry Box while you use it and then store conveniently away inside. The leather is specifically prepared and treated for the optimal honing surface. Just color the compound on like a crayon and you are ready to go.
When you need more than the black and green compounds, the included sandpaper is just what you need. With the leather in place, set the sandpaper on the box and close the OtterBox lid on the ends of the paper. With the paper held firmly in place by the OtterBox, and the leather giving the perfect backing, you can bring the dullest knife back to hair popping sharp.
The S3 Dry Box provides a nearly indestructible waterproof carrying case for your sharpening supplies in the field and convenient storage at home.